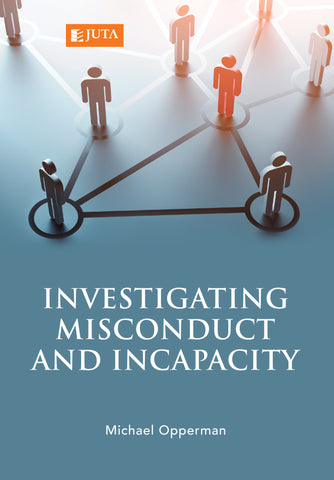 Investigating Misconduct and Incapacity (2016)
R 71200

R 712.00

Save R 78
---
---
About this Publication:
Investigating Misconduct and Incapacity sets out practical steps to enable those initiating dispute procedures to compile and prepare relevant evidence for disciplinary enquiries and to structure that evidence for the best presentation of cases against offenders in the workplace.
Investigating Misconduct and Incapacity assists in properly conducting investigations and then interpreting the evidence discovered, collating the evidence effectively and presenting that evidence during the course of disciplinary hearings.
This book discusses the tools of discovery of evidence, offence categories for relevant charges and how to compile those charges. It describes various processes of collating the evidence into a comprehensible format and also addresses the prospects of legal intervention should the situation warrant it.
Contents Include:
The parameters for misconduct

What is misconduct?
What is a valid rule or standard? Where can these rules be found?
Who is an employee?
Awareness of the rule or standard
Consistency
Appropriate sanction
The burden of proof
Suspension

The investigation process

Prima facie

evidence
The parameters of the charge: Template to decide if there is reason for a charge
Planning the investigation
Criminal investigation
Interrogation
Interviewing employees

Tools of discovery
Offence categories
Collating and presenting the evidence
Legal intervention

Search and seizure
Urgent applications for labour issues

Annexures

Rules for the Conduct of Proceedings before the CCMA
CCMA Guidelines on Misconduct Arbitration
Of Interest and Benefit to:
Labour lawyers
HR managers
Trade unions
Line managers
---
We Also Recommend
---