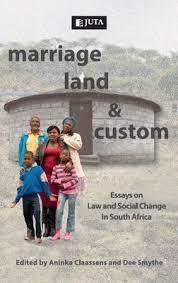 Marriage, Land & Custom: Essays on Law and Social Change in South Africa (first published as Acta Juridica 2013)
R 61100

R 611.00

Save R 178
---
---
About this Publication:
In Marriage, Land and Custom, the contributors consider how the far reaching processes of change and adaptation that are currently underway in relation to marriage and the land rights of single women living in 'communal' areas in South Africa relate to one another, and to the broader economic and political developments in South African society. The book also examines the impact of the implementation of the Recognition of Customary Marriages Act in this volatile arena.

The focus in Marriage, Land and Custom is on the insights and experiences of academics and practitioners from different disciplinary frameworks, who address the complex interface between poverty, HIV, declining employment rates and the increasing number of social grants and their relationship to changing options for women, law reform and the shifting balance of power at local level.
Contents Include:
Marriage, land and custom: what's law got to do with it? -

 

Aninka Claassens

 

and

 

Dee Smythe
Women, marriage and land: findings from a three-site survey -

 

Debbie Budlender
Securing women's customary rights in land: the fallacy of institutional recognition -

 

Wilmien Wicomb
Women's land rights and social change in rural South Africa: the case of Msinga, Kwazulu-Natal -Ben Cousins
Contesting customary law in the Eastern Cape: gender, place and land tenure -

 

Tara Weinberg
Women's eviction in Msinga: the uncertainties of seeking justice -

 

Sindiso Mnisi Weeks
Women, marriage and domestic arrangements in rural KwaZulu-Natal, South Africa -

 

Victoria Hosegood
Changing patterns of marriage and cohabitation in South Africa -

 

Dorrit Posel

 

and

 

Stephanie Rudwick
Declining rates of marriage in South Africa: what do the numbers and analysts say? -

 

Christine Mhongo

 

and

 

Debbie Budlender
How social security becomes social insecurity: fluid households, crisis talk and the value of grants in a KwaZulu-Natal village -

 

Bernard Dubbeld
Renegotiating intimate relationships with men: how HIV shapes attitudes and experiences of marriage for South African women living with HIV: 'Now in my life, everything I do, looking at my health' -

 

Diane Cooper,

 

Elena Moore

 

and

 

Joanne Mantell
When non-registration becomes non recognition: examining the law and practice of customary marriage registration in South Africa -

 

Monica de Souza
Twelve years later: how the Recognition of Customary Marriages Act of 1998 is failing women in South Africa -

 

Roxanne Kovacs,

 

Sibongile Ndashe

 

and

 

Jennifer Williams
Form over function? The practical application of the Recognition of Customary Marriages Act 1998 in South Africa -

 

Lea Mwambene

 

and

 

Helen Kruuse
Mayelane v Ngwenyama and Minister for Home Affairs: a reflection on wider implications -

 

Chuma Himonga

 

and

 

Anne Pope
 'Today it would be called rape': a historical and contextual examination of forced marriage and violence in the Eastern Cape -

 

Nyasha Karimakwenda
Reflections on the recognition of African customary marriages in South Africa: seeking insights for the recognition of Muslim marriages -

 

Waheeda Amien
Rethinking marriage and its privileges -

 

Denise Meyerson
Of Interest and Benefit to:
Academics in the disciplines of law, African studies, sociology, public health and gender studies
NGOs that address women's rights, rural issues
---
We Also Recommend
---