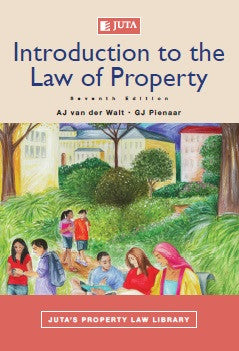 Introduction to the Law of Property 7 Ed.
R 73600

R 736.00

Save R 123
---
---
The reworked and updated seventh edition of this widely-prescribed bestseller has been written specifically for second year students following a first course on the subject. Extensive use is made of examples and references to case law and the authors take cognisance of and accommodate the varying needs and teaching approaches at different universities.
Available in English and Afrikaans, the seventh edition of Introduction to the Law of Property endeavours to provide a picture of property law in the new constitutional system, and therefore a few chapters on the constitutional property clause and land reform have been included.
This new edition now forms part of Juta's Property Law Library, which is aimed as a series at illustrating the interplay between the common law, the Constitution and legal reform in a constitutional system. As an introduction, the book is different from the other volumes in the series in that it is specifically aimed at students.
This book should be used with the eighth edition of Van der Walt's bilingual Law of Property Casebook for Students / Sakereg Vonnisbundel vir Studente.
---
We Also Recommend
---