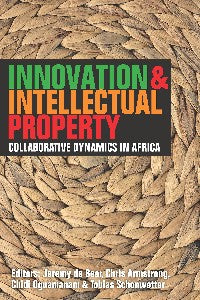 Innovation and Intellectual Property: Collaborative Dynamics in Africa (2013)
R 53200

R 532.00

Save R 148
---
---
| Description | Price |
| --- | --- |
| 2015 | R 511.00 |
Innovation and Intellectual Property
Collaborative dynamics in Africa
Authors
de Beer, J (Editor)
Armstrong, C (Editor)
Oguamanam, C (Editor)
Schonwetter, T (Editor)
About this Publication:
There are opposing views about how IP protection influences innovation and creativity and in many developing countries the IP environment could be said to be suboptimal, which adds complexity to this debate. With this in mind, the World Intellectual Property Organisation has established a set of 'development agenda' initiatives aimed at balancing developed-country and developing-country interests in global IP governance and norm-setting.

However, research around how existing or potential IP systems can be harnessed in a manner which measures and facilitates innovation, creativity and socioeconomic development is scarce, particularly in Africa. This book offers the research findings of the Open African Innovation Research and Training (Open A.I.R.) Project, which explored the intersection of innovation, IP and development in nine African countries - Egypt, Nigeria, Ghana, Ethiopia, Uganda, Kenya, Mozambique, Botswana and South Africa. It looks at the roles of IP rights in a range of sites of innovation: agricultural production, biofuel technology development, traditional medicine, university/industry research collaborations, automotive manufacturing, independent musical production and distribution, and scholarly publishing.

The authors establish that African innovation in the present international IP system is undervalued, and the case studies reveal a wide array of innovation contexts and of IP systems at play in them, suggesting alternative potential IP systems.
---
We Also Recommend
---