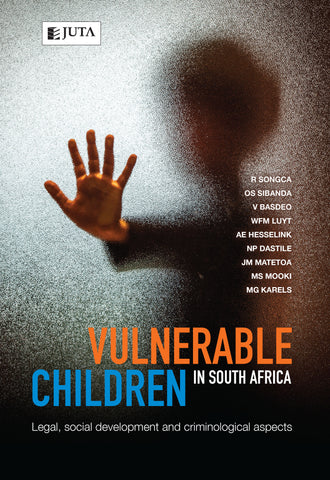 Vulnerable Children in South Africa, 1st Edition
R 67400

R 674.00

Save R 21
---
---
Product Details:
| | |
| --- | --- |
| Author(s): | Dastile, N P,Matetoa, J M,Mooki, M S,Karels, M,Songca, R,Sibanda, O S,Basdeo, V,Luyt, W F M (ed),Hesselinkm, A E |
| Page count: | 336 |
| ISBN: | 9781485118091 |
| | |
| --- | --- |
| Languages(s): | English, |
| Year Published: | 2016 |
| Categories: | Persons and Family, Law, Law, Law, |
| Type: | Print |
About this publication
Vulnerable Children in South Africa: Legal, social development and criminological aspects analyses the legal, social development, criminological and penology issues that affect vulnerable children and children who are in conflict with the law.
The book adopts a multi-disciplinary approach to the topic and considers vulnerability within both the family and broader societal structures. The book addresses the needs of children as victims and children as perpetrators of harm. The book takes a holistic view of vulnerability in childhood and addresses a wide variety of issues, including the nature and potential legal impact of harmful cultural practices.
Vulnerable Children in South Africa also describes the causes and effects of vulnerability in childhood and emphasises the multi-disciplinary aspects of working with such children as victims or offenders.
The authors concentrate on the processes that apply to the work of various professionals: police officers, lawyers, social workers, probation officers and correctional officers. The Child Justice Act 75 of 2008, the Children's Act 38 of 2005 and the Criminal Law (Sexual Offences and Related Matters) Amendment Act 32 of 2007 are among the Acts that are discussed.
Written by former police officers, criminologists, penologists, lawyers and experts in the area of children's rights, the book is designed to be practical in nature and is supplemented by forms and documents relevant to working with vulnerable children.
Content
Vulnerable children in the South African context

Children in the family
Violence against children
Youths within the criminal justice system as perpetrators and victims

Constitutional and legislative themes applicable to the protection of vulnerable children

The South African Bill of Rights and vulnerable children
Children and the law – an introduction to the aims and objectives of selected statutes applicable to vulnerable children
Customary law and vulnerable children

Inter-sectoral co-operation in the protection of vulnerable children

Inter-sectoral co-operation for protecting vulnerable children
Departments and sectors of government with a child protection or assistance mandate

The role and duty of the South African police service in protecting vulnerable children

Policing and vulnerable children
Policing and the protection of vulnerable children through specific legislation

The role of social workers and probation officers in protecting vulnerable children

Child justice reform in South Africa
The Child Justice Act 75 of 2008
Probation
Key role players in child justice
Matters related to age
Assessment of children
Preliminary inquiries
Diversion
Sentencing in the child justice court
Duties of provincial officers of the Department of Social Development (summarised)

The role of Correctional Services in protecting vulnerable children


Sentencing options for child offenders
The role of the Department of Correctional Services in child justice
Incarceration of child offenders under remand
Sentenced child offenders in South African correctional centres
Overview of selected correctional phenomena
Research concerning selected correctional phenomena
Release from correctional incarceration and aftercare
Annexures: South African Police Service (SAPS) forms for police procedures involving children

Table of cases
Table of statutes
---
We Also Recommend
---