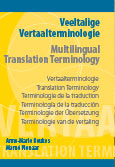 Veeltalige vertaalterminologie / Multilingual translation terminology
Veeltalige Vertaalterminologie / Multilingual Translation Terminology is 'n versameling van sowat 200 Afrikaanse en Engelse terme oor vertaling met ooreenstemmende ekwivalente in Frans, Duits, Spaans en Nederlands. Die termlys is gegrond op konsepte soos geïdentifiseer deur die gesaghebbende Internasionale Federasie van Vertalers (FIT) en kan beskou word as die kernwoordeskat vir die praktiese onderrig van vertaling. Elke term word toegelig met beknopte definisies en gebruiksvoorbeelde. Hierdie boek is bedoel as 'n nuttige hulpmiddel by die praktiese onderrig van vertaling, maar kan ook met vrug benut word deur praktiserende vertalers en tolke op soek na toeligting oor die basiese konsepte en woordeskat wat gebruik word in die internasionale praktyk van vertaling en tolking.
Veeltalige Vertaalterminologie / Multilingual Translation Terminology consists of a collection of approximately 200 terms in English and Afrikaans with corresponding equivalents in French, German, Spanish and Dutch. The list is based on concepts identified by the leading International Federation of Translators (FIT) as constituting the core vocabulary required for the teaching of practical translation. Each term is explained by providing concise definitions and practical examples. This book is primarily intended as a useful tool in teaching practical translation, but can also be used to advantage by practising translators and interpreters who want to acquaint themselves with the basic concepts and vocabulary used internationally in translation and interpreting practice.
---
We Also Recommend
---