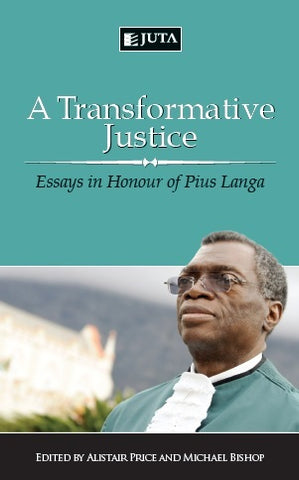 Transformative Justice, A: Essays in Honour of Pius Langa (first published as Acta Juridica 2015) (2015)
R 76400

R 764.00

Save R 55
---
---
The late Chief Justice of South Africa, Pius Langa, was a remarkable man. He achieved so much in his life and touched many people with his quiet dignity, his generosity and his sparkling humour. As a lawyer, he had a profound impact on the establishment of South Africa's new democracy and the adoption of the country's Constitution. Through his work on the Constitutional Court, he charted a path that would allow the country to reach what he called the 'vision of the Constitution'. As a man, he served as an example to many: he was strong, committed, empathetic, thoughtful and kind.
A Transformative Justice: Essays in Honour of Pius Langa pays tribute to this remarkable man and lawyer. The book has three sections: first, a series of personal tributes to Justice Langa; second, reflections on the work of the Constitutional Court under Langa's leadership as well as aspects of his philosophy as a judge; and third, explorations of a variety of specific themes in his judgments, writings and speeches.
The contributions to A Transformative Justice are written by eminent judges, academics and practitioners, many of whom worked closely with Langa. The book addresses a broad range of practical and theoretical topics, including transformative constitutionalism, judicial dissent, the role of the people in constitutionalism, and legal education, as well as the areas of customary law, contract law, delict, administrative law, criminal law and procedure, and the protection of rights to equality, freedom of religion and culture.
Also available in hard cover format as Acta Juridica 2015, and online as part of Acta Juridica (2000 to date) or Juta's Electronic Law Journals (2000 to date).
Contents Include:
Preface - Alistair Price and Michael Bishop
Part I: Personal tributes

Personal tribute to former Chief Justice Pius Langa - Dikgang Moseneke
Tribute to Pius Langa - Albie Sachs
Tribute to Chief Justice Pius Langa -Marumo Moerane
Working with Justice Langa on press freedom - Anshal Bodasing

Part II: Reflections on Justice Langa's court and philosophy

The Langa Court: Its distinctive character and legacy - Theunis Roux
The people, the court and Langa constitutionalism - James Fowkes
Humility, dissent and community: Exploring Chief Justice Langa's political and judicial philosophy - David Bilchitz
The importance of dissent: Two judgments in administrative law - Cora Hoexter
Transformative constitutionalism – Guiding light or empty slogan? - Jason Brickhill and Yana van Leeve
Legal transformation and legal education: Congruence or conflict? - Dennis Davis
Bridging the gap between people and the law: Transformative constitutionalism and the right to constitutional literacy - Tim Fish Hodgson

Part III: Reflections on themes in Justice Langa's judgments

Customary succession and the development of customary law: The Bhe legacy -Sindiso Mnisi Weeks
Bhe v Magistrate, Khayelitsha: A cultural conundrum, Fanonian alienation and an elusive constitutional oneness - Sanele Sibanda and Tshepo Bogosi Mosaka
Contractual obligation and the journey from natural law to constitutional law - François du Bois
State liability and accountability - Alistair Price
S v Williams: A springboard for further debate about corporal punishment - Ann Skelton
Can we discard the doctrine of legal guilt? - Pamela-Jane Schwikkard
On the reciprocal relationship between the rule of law and civil society - Stu Woolman
Constitutional protection of the right to privacy: The contribution of Chief Justice Langa to the law of search and seizure - Chuks Okpaluba
Equality beyond dignity: Multi-dimensional equality and Justice Langa's judgments - Catherine Albertyn and Sandra Fredman
On the limits of cultural accommodation: KwaZulu-Natal MEC for Education v Pillay - Okyerebea Ampofo-Anti and Michael Bishop
Of Interest and Benefit to:
Academics
Legal practitioners
---
We Also Recommend
---