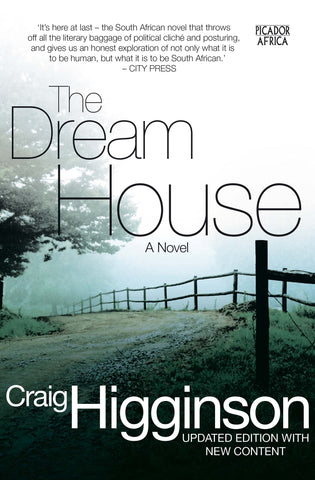 THE DREAM HOUSE
R 22695

R 226.95

Save R 14
---
---
A farmhouse is being reproduced a dozen times, with slight variations, throughout a valley. Three small graves have been dug in the front garden, the middle one lying empty. A woman in a wheelchair sorts through boxes while her husband clambers around the old demolished buildings, wondering where the animals have gone. A young woman – called 'the barren one' behind her back – dreams of love, while an ageing headmaster contemplates the end of his life. At the entrance to the long dirt driveway, a car appears and pauses – pointed towards the house like a silver bullet, ticking with heat.
So begins The Dream House, Craig Higginson's riveting and unforgettable novel set in the Midlands of KwaZulu-Natal. Written with dark wit, a stark poetic style and extraordinary tenderness, this is a story about the state of a nation and a deep meditation on memory, ageing, meaning, family, love and loss.
This updated 2016 edition contains new content, with Craig Higginson exploring the background to The Dream House, his varied experiences in a farmhouse in KwaZulu-Natal and the subsequent and poignant motivations for this moving novel.
---
We Also Recommend
---