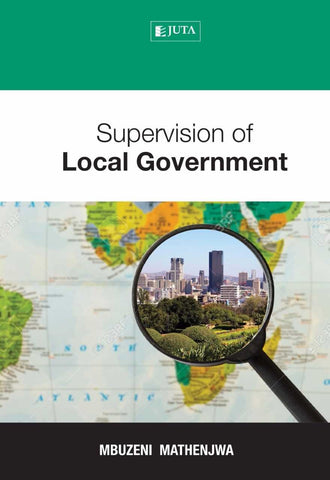 Supervision of Local Government (2017)
R 72400

R 724.00

Save R 100
---
---
Supervision of Local Government
About this Publication:
Supervision of Local Government discusses the role of national and provincial governments in supervising the functions of local government. The book analyses the legal status of local government, which is entrenched and protected by the Constitution, and examines the powers of the national and provincial governments to supervise local government.
Supervision of Local Government explores international practices in the supervision of local government and investigates general trends in the supervision of selected municipalities in South Africa. Shortcomings, inconsistencies and irregularities in the supervision of local government are identified.
The book discusses the concept of 'supervision' as it relates to local government in its broad sense, which includes monitoring, intervening in and supporting local government. Supervision of Local Government also explores the manifestation of the principles of cooperative government and subsidiarity in the supervision of local government by national and provincial governments.
Cooperative government requires that the other spheres of government intervene in local government to assist municipalities in managing their own affairs, while the principle of subsidiarity requires that services should be rendered at the lowest possible level of government. Thus, the national and provincial spheres have a duty to support the local sphere of government in fulfilling this duty and this duty is analysed in the book.
Contents Include:
Introduction to supervision of local government
The status of local government in South Africa

Historical background
Local government under the 1996 Constitution
Status of local government: Comparative overview
Monitoring of local government

Monitoring of local government by provincial government
Monitoring of local government by the national government
The power to monitor local government is ancillary to the duty to support local government
Monitoring of public institutions by state institutions supporting democracy
Monitoring of local government: Comparative overview
Intervention in local government

National government intervention in provincial government
National government intervention in local government
Provincial government intervention in local government
Dissolution of a municipal council
Intervention in local government: Comparative overview
The practice of supervision of local government in South Africa

General trends in the supervision of local government
Supervision of specific municipalities

Challenges facing the supervision of local government

Lack of dispute-settling mechanisms in the supervision of local government
Challenges of the delay in adopting the IRFA
The impact of party politics on the supervision of local government
The status and role of organised local government bodies in the national council of provinces
The lack of community consultation in intervention
Of Interest and Benefit to:
National and provincial government officials involved in intergovernmental supervision
Municipal managers
In-house lawyers in local and provincial government
Attorneys and advocates litigating in the area of local government
Academics and students of local government law
---
We Also Recommend
---