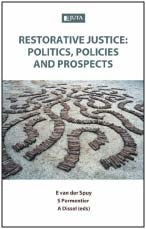 Restorative Justice - Politics, Policies and Prospects (first published as Acta Juridica 2007) (2008)
R 67400

R 674.00

Save R 19
---
---
This book contains a selection of papers presented at an international conference entitled 'The politics of restorative justice in South Africa and beyond', held near Cape Town in 2006. The conference aimed to foster debate on and about restorative justice, its methodological assumptions, its policy permutations, and the kinds of strategic interventions and practices adopted in its name.
Contents Include:
PART I INTERNATIONAL TRENDS IN RESTORATIVE JUSTICE

Situating restorative youth justice in crime control and prevention - Adam Crawford
Victim-offender dialogue in violent cases: a multi-site study in the United States - Mark S. Umbreit, Betty Vos, Robert B. Coates and Kathy Brown
Crime control developments in post-modern societies and in societies in transition - Hans-Jürgen Kerner
The institutionalisation of restorative justice: justice and the ethics of discourse - Barbara Hudson
An ethical justification for the theory of law as peacemaking - Robert E Mackay
Restorative justice through networking: a report from Europe - Ivo Aertsen


PART II RESTORATIVE JUSTICE, CRIME AND (IN)SECURITY IN AFRICA

Development, social justice and global governance: challenges to implementing restorative and criminal justice reform in South Africa - Tony Roshan Samara
Exploring the impact of gated communities on social and spatial justice and its relation to restorative justice and peace-building in South Africa - Karina Landman
Back to the future in South African security: from intentions to effective mechanisms - Clifford Shearing and Don Foster
'He must buy what he stole and then we forgive': restorative justice in Rwanda and Sierra Leone - Bruce Baker
Narrating the spirit of justice - Carl Stauffer


PART III RETRIBUTION AND RESTORATION IN CRITICAL PERSPECTIVE

Is punishment the appropriate response to gross human rights violations? Is a nonpunitive justice system feasible? - Ezzat A. Fattah
Tapping indigenous knowledge: traditional conflict resolution, restorative justice and the denunciation of crime in South Africa - Ann Skelton
The antinomies of restorative justice - Raymond Koen
Of Interest and Benefit to:
The book is intended for a wide variety of constituencies, including academics, government, civil society and grass-roots organisations, in South Africa, the African continent and the international community.
---
We Also Recommend
---