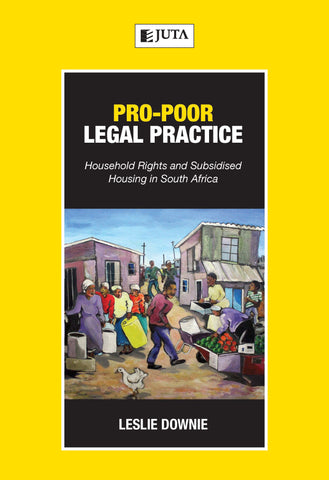 Pro-poor Legal Practice: Household Rights and Subsidised Housing in South Africa (2017)
R 31700

R 317.00

Save R 82
---
---
Pro-poor Legal Practice: Household Rights and Subsidised Housing in South Africa
About this Publication:
Since 1994 there has been a surge in private land ownership by low-income citizens in South Africa. Approximately a third of residential properties registered by the Deeds Office are previously State-subsidised houses. More than 12 500 000 people live in these homes, constituting a large base of individuals requiring legal services. Many of these new property owners live at the interface between the formal and informal economy. Standard property, succession and family law approaches are often ill-equipped to suitably address the many and distinctive (power) imbalances typical of this sector.
New legal strategies affordable to both lawyer and client need to be developed. This book discusses methods for developing pro-poor contracts and land tools for low-income clients. Prenuptial and cohabitation agreements, housing rights and land ownership are explored, since they are areas core to the sustainability of the private law.
Contents Include:
Lawyer: Know yourself

Enter the lawyer as scientist
Pro-poor lawyers validate client norms
Lawyers and plain language
The lawyer and financial realism
Legal aid
Overview of chapters

Know you are on a frontier

Defining pro-poor terms
The absence of legal aid for civil matters
Inadequate formal conflict resolution platforms
The urban land construct and tenure for the poor
The effect of differing normative beliefs
Informality and lawlessness

Know your client

Life story: Justice
Poverty housing relief, marriage and tenure
Hybridisation of marital culture
Socially embedded norms and succession rights

Categorising social issues for legal action

Correlating social issues with client variables
Sources used for social data
Life story: Faith
Correlating social issues with legal issues

Legal framework: Marriage and cohabitation

Traditional prenuptial agreements
Sources of the formal law
Formal legal frame for marriage and cohabitation
Selected judicial precedents

Legal framework: Subsidised housing law and policy

Legislation
Policy
The public interest and good governance

The big picture: Current land tenure thinking

Recognising informal land tenure information
Land tenure information systems
The land rights continuum
The social tenure domain model
Pro-poor land tools
The South African housing information system
Access to information and enforcement mechanisms
The Deeds Registries Amendment Bill
Life story: Hope
The state's role in informal practices
Strategies for pro-poor prenuptial agreements

Prenuptial agreements as a tenure tool
Differentiating pro-poor prenuptial agreements
The use of conventional approaches
Succession and dispute resolution
Private ownership and use rights
Protecting communitarian interests
Personal servitudes:

Usus, habitation and usufruct

The initial stages of client interaction

Law as process
The use of legal templates
The checklist stage
The affidavit stage
Example precedent A: Affidavit
Discussion of the affidavit stage

Developing clauses for a prenuptial agreement

Taking instructions from the client
Identification of existing template clauses
Drafting strategies
Drafting an

usus

agreement for subsidised housing
Example precedent B:

Usus

agreement
Drafting a succession agreement for heirs
Example precedent C: Succession agreement
Drafting a succession agreement for a trust
Example precedent D:

Mortis causa

family trust
Drafting dispute resolution clauses
Example precedent E: Appropriate dispute resolution
Drafting in anticipation of divorce or destitution
Example precedent F: Family history annexure
Comments on the templates and tenure security
Further developing of the templates

Simulating clients to test your precedents

Simulating clients
The Alphabeta couple

The Kingwill case study facts
The Kingwill case study re-storied as the Alphabeta family
The Alphabeta family applications

The Ubuntu family

The Bhe case facts
The Bhe facts re-storied as the Ubuntu family
The Ubuntu family application

The Familievas couples

The Grootboom case facts
The Grootboom facts re-storied as the Familievas families
The Familievas families' application
Comments on client simulations
Know that you don't know

Binding formality with informality
Prenuptial agreements as a diversified land right
Constitutional norms and marital land tenure
Arguments in favour of the template approach
Policy development and future research
Conclusion

Bibliography

Books
Articles and internet resources

Legislation and bills

Cases
List of model precedents
Of Interest and Benefit to:
Judges
Magistrates
Attorneys
Students, researchers and academics
Marriage officers
International forums that follow land tenure
Social workers and social scientists who deal with family conflicts
Departments of housing
NGOs that focus on gender, housing or land issues
---
We Also Recommend
---