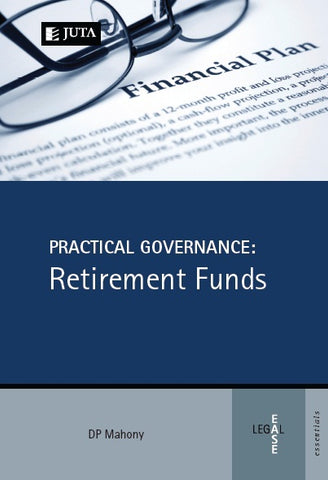 Practical Governance: Retirement Funds (2014)
R 49300

R 493.00

Save R 49
---
---
About this Publication:
Practical Governance: Retirement Funds aims to provide trustees of pension and retirement funds with a solid understanding of the business of retirement funds.
When faced with thick law books and files of practice notes, many trustees are uncertain where to start in tackling the daunting task that lies ahead of them. This guide offers an easy-to-understand approach that breaks issues down in bite-sized chunks.
The book includes recent changes to the Pension Funds Act, the requirements of the Financial Services Laws General Amendment Act 45 of 2013 and relevant recommendations of the King Code.
Practical Governance: Retirement Funds will benefit both new trustees and more experienced persons. Once familiar with issues as explained in this book, a trustee will be better equipped to discharge his or her responsibilities.
Contents Include:
Glossary and definitions
Accounts
Actuary
Administrator
Amalgamations and transfers
Annuities
Approved versus unapproved benefits
Audit – independent external
Bargaining Council funds
Beneficiary nomination form
Beneficiary funds/trusts
Benefit statement
Board of trustees
Board minutes and resolutions
Chairman
Certificate of existence
Code of Conduct
Combined funds
Committees
Commutation
Complaints procedure
Corporate governance
Custodian
Deferred pensioner
Defined benefit fund (DB)
Defined contribution Fund (DC)
Dependants
Disability insurance
Disclosure and transparency
Early retirement
Evidence of health
Expression of wish
Financial planners and consultants
Financial Services Board (FSB)
Free cover limit
Fund interest declaration
Fund rules
Fund objectives
Funds not in sound financial position
Group life assurance
Housing loans
Insured personal risks
Investing in participating employers' equity
Investments
Late retirement
Liability of trustees
Lump sum allocations to dependants
Lump sums on withdrawal
Member enquiry – do I have enough?
Non contributory fund
Normal retirement date (NRD)
Participating employer
Pensionable salary
Pension funds
Pension Funds Adjudicator
Policies and procedures
Preservation funds
Principal officer
Promotion of access to information
Provident funds
Registered office
Risk management
Service level agreements
Spouses and orphans pension
Spouses cover
Stakeholders
Surpluses
Tax payable on withdrawal of funds
Trustees
Umbrella funds
Unitised portfolio
Untraceable ex-members
Valuator
Vesting
Voluntary contributions
Whistleblowing
Of Interest and Benefit to:
Pension and provident fund trustees
Principal officers and administrators
Pension fund lawyers
---
We Also Recommend
---