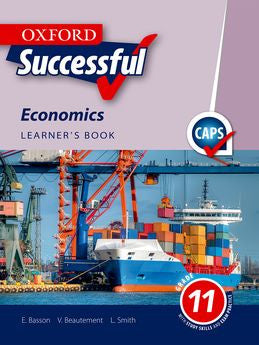 Oxford Successful Economics Grade 11 Learner's Book
R 39695

R 396.95

Save R 32
---
---
Oxford Successful Economics is a trusted Economics course used by teachers all over South Africa. The rich, relevant content, enriched by up-to-date case studies 
and examples, fully covers the CAPS.
Features
Assessment is carefully scaffolded throughout the Learners Book to ensure a successful year for the learner.
Assessment guidance and flexible assessment tools in the Teachers Guide allow teachers to adapt the assessment tools to meet specifi c class needs.
Exam support is built into every activity, revision, practice test and practice exam, helping learners prepare for formal assessment and exams.
An exam section, packed with exam tips and practice papers, helps learners prepare for formal assessment and exams.
Study Skills Support ensures the development of the cognitive skills learners require to tackle activities, tests and exams.
---