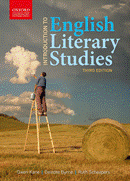 Introduction to English Literary Studies 3rd Ed.
R 35595

R 355.95

Save R 44
---
---
The third edition of Introduction to English Literary Studies, previously published as Selves and Others, is a guide on how to approach, engage with, and write about literature. Structured into chapters that deal with reading and writing, poetry, narrative, and drama, the book enables students to become successful critical readers of English literature.

The book offers an integrated, progressive introduction to the study of literature in English, creative writing, and literary genres. Critical literacy exercises help students engage with literary concepts and develop their thinking skills. Margin glosses explain difficult terms, while information boxes provide additional contextual information or pose self-reflective questions.

Introduction to English Literary Studies is written for university and university of technology students taking first-year courses in literature and creative writing. It is ideal for both face-to-face and distance education courses.
---