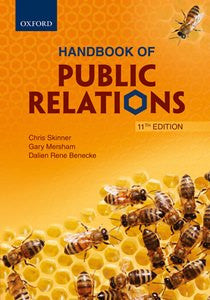 Handbook of Public Relations 11e
R 59695

R 596.95

Save R 25
---
---
Handbook of Public Relations 11th edition continues to cover relevant content and contains case studies and examples taken from a South African context that deal with issues such as multi-cultural communication and relationship building.

Features
Glossary of public relations terms to help explain and clarify new words and terminology.
Questions to guide students with self-assessment.
Checklists for practical assistance when planning events.
An updated chapter on social media and online public relations. A strategic plan for public relations communication
Practical guidelines to assist students with skills such as listening, speaking and writing.
---