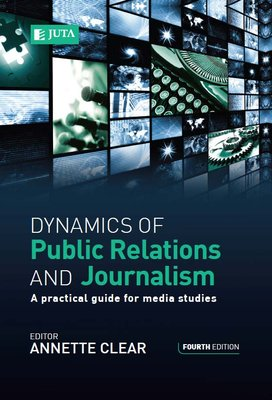 Dynamics of Public Relations and Journalism 4th Ed.
R 32200

R 322.00

Save R 138
---
---
There is a complex interaction between public relations and journalism, and students of these subjects need to know about both. Dynamics of Public Relations and Journalism fourth edition unravels and explores these two worlds to enhance the journalistic skills of Public Relations students, at the same time providing students of Media Studies with invaluable insights into the complex, multidisciplinary field of Public Relations. This book highlights the interdependency of the two professions and explains – clearly, simply and succinctly – the need for their smooth synergy.

In this fourth edition, chapters have been updated to help readers stay abreast of current trends in Public Relations and Journalism. The advent of social media and its growing role in these areas has been one of the most significant changes since the publication of the previous edition of this book. Here, the authors discuss the influences, roles, functions and appropriate application of social media. In addition, a new chapter on Corporate Social Media introduces social media as a public relations function, describing the attributes of social media engagement and the popular social networks that may be used in the corporate arena.
---