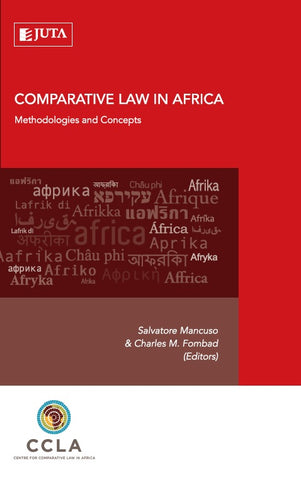 Comparative Law in Africa: Methodologies and Concepts (Comparative Law in Africa series) (2015),1st Edition
R 57900

R 579.00

Save R 21
---
---
Product Details:
| | |
| --- | --- |
| Author(s): | Fombad, CM,Mancuso, S |
| Page count: | 196 |
| ISBN: | 9781485107453 |
| | |
| --- | --- |
| Languages(s): | English, |
| Year Published: | 2015 |
| Categories: | Comparative Law, International Law, Law, Law, |
| Type: | Print |
About this publication
The Centre for Comparative Laws in Africa held its inaugural methodology workshop from 22 to 24 October 2012. Over 40 scholars from various universities in South Africa, Africa, Europe and the United States of America participated in plenary and panel discussions around comparative law in cultural, interdisciplinary and subject context, Western legal traditions and mixed jurisdictions in African comparative legal studies, traditional and informal law in Africa, religious law in Africa and its comparative implications and the role of African comparative legal studies in the development of law in Africa.
Comparative Law in Africa: Methodologies and Concepts is the outcome of the workshop. Its aim is to contextualise comparative legal studies in the African continent, with the ultimate goal of paving the way for the development of a comparative methodology specifically addressed to Africa. The studies presented in this volume offer different views and perspectives around the main theme of how to methodologically approach comparative legal studies in Africa, and how to properly take into consideration all the different layers composing the African legal systems, in order to give them the proper role and the proper place.
The diverse background of the different contributors to this volume enriches its continental approach and offers a stimulating voice to African comparative legal scholars to continue their research.
Content
Africanisation of Legal Education Programmes: The Need for Comparative Legal Studies -

 

Charles Manga Fombad
Comparative Law in the African Context -

 

Salvatore Mancuso
Methodological Approaches to Comparative Legal Studies in Africa -

 

Chris Nwachukwu Okeke
Comparative Legal Studies in Africa: A Methodological Way -

 

Kebreab Habte Michael
Researching and Teaching (Comparative) Law in Africa -

 

Ignazio Castellucci
Applying the Tool of Comparative Law to the study of Africa's Multiple Development Pathways -

 

Ada Ordor
Legal Salmon: Comparative Law and its Role in Africa -

 

Mathilda Twomey
The Role of African Comparative Legal Studies in the Development of Law in Africa, as Illustrated by OHADA in Cameroon -

 

Claire Moore Dickerson
Responding to Zambia's 'Mixed' Legal System: Seeking a 'Visibly' Comparative Approach to Law Studies -

 

Mulela Margaret Munalula
The Meeting of Comparative Law and Legal Anthropology in Africa –

 

Thomas W Bennett
The Collection and Codification of Customary Law in Force in the Republic of Guinea-Bissau -

 

Fernando Loureiro Bastos
A New Approach to African Comparative Law in the Field of Business Law: Comparison of Cases from Different Jurisdictions -

 

Mahutodji Jimmy Vital Kodo
Human Rights and Business Law in the African Context -

 

Moussa Samb
---
We Also Recommend
---